Of Confinements and Vacations…
Summer Residence Rainforest Sanctuary, a new mother's dream, now a reality..
For most women, the joy of expecting a new baby is often marred by the fears and trepidations of labour and delivery. Some worry about the pain, while others lose sleep over the health and safety of their unborn child.
But of course…delivering the said baby is only half the battle. The story does not end there. In fact, that is where it all begins. Now you have to take care of your baby, watch what you eat, go through various confinement rituals and endure sleepless nights or wake up constantly to change or feed your baby. On top of that, you must also ensure that the house be kept clean for the visitors and caring souls who would like to come over to visit.
No doubt all of these will be such a daunting experience that you may well feel like putting your hands up and walking away from it all. Well, most people would say that confinement is not a process you go through alone, in fact you will always have either your mother or mother in law to be with you at every step of the way.
Nevertheless, things may not always be fun and rosy with your mum or in laws around as you may have different ideas and approaches to doing things. In fact, some may even practice archaic confinement rituals that may prove not only medically adverse to your health but also add unnecessary stress to your postnatal healing process.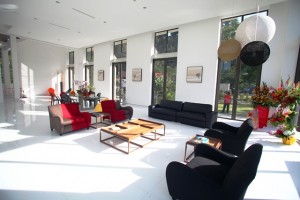 Now, wouldn't it be just great if you can give birth and immediately take a nice relaxing break, while leaving the nitty gritties of confinement and infant care in the hands of professionals? No, we don't mean that you should abandon your baby with a certified nanny, and book a trip to the Bahamas. But what about something that is bound to give you the best of both worlds instead? And by that we mean getting a relaxing break in a beautiful and comfortable accommodation, where you can focus on healing and learning how to breastfeed and take care of your new bundle of joy all under the watchful eyes of calm, caring yet compassionate professionals. Sounds too good to be true doesn't it?
Well, that's not the case anymore. The idea above is more than just a mum's wishful thinking. It is now an actual real service by the Summer Residence Rainforest Sanctuary, a full-service recuperation resort designed to enable new mothers to relax and enjoy the pleasures of early parenthood, while bonding with other mums who are going through a similar experience. At the sanctuary, the details of confinement practices are taken care of by a team of professionals, thus allowing mothers to focus on themselves and their babies.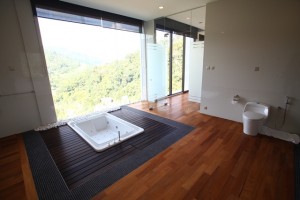 Situated on a hill top, 2,100 ft above sea level and surrounded by tropical rainforest, it's hard to imagine that this post natal haven is just a 30-minute drive out of Kuala Lumpur. So much so that if you keep your ears and eyes open, you can hear the beautiful chirping of birds all day long and watch hornbills and eagles soar occasionally around you. Away from the hustle bustle of the city and its overwhelming lights, the sanctuary is also a perfect place for star gazing, something that will definitely relax you and subsequently aid your healing process.
While enjoying the tranquility and serenity of the mountains, you still get to enjoy the pleasures and convenience of modern day home amenities such as the infinity, lap and wading pools, a heated Jacuzzi, fireplace, gymnasium, library and reading room as well as the centre's unique green Cool Air Ventilation System.
Beyond that, new mothers will also get to enjoy other facilities and services such as their own personal audio-visual system, digital safe, personal intercom, free wi-fi, 24-hour CCTV in their baby's room, 24-hour midwives and confinement helpers on call and 24-hour security. And the best part? New mothers need also not worry about washing their clothes and keeping their rooms clean as there are also laundry services and daily housekeeping services provided for all of guests.
More important than going off to stay in a comfortable bungalow overlooking a scenic view, new mothers also get to enjoy the all-important support from professionals on all aspects of confinement and baby care. These include, breast feeding education, assistance in comfort and hygiene care as well as proper guidance on wound care. Besides that, the centre's nurses and confinement specialists will also assist new mothers in baby care such as teaching and helping them with burping, bathing and diapering their newborns, monitoring the baby's weekly growth and vital signs as well as well as providing daily infant massages
Your journey into parenthood is precious and memorable. It should be something you cherish and enjoy, not something you fear and stress about. By going on a proper confinement 'vacation' you can rest assured that half the battle of post natal care and early parenthood is done; thus along you to focus wholeheartedly on regaining your health, celebrating your love with your partner and most importantly, getting to know the new addition to your family.
So what are you waiting for? If you would like to know more about this wonderful post labour home away from home do contact 03-2284 8087, email [email protected] or you may also visit http://www.summer-residence.com.my.
Last but not least, have a healthy, happy and rejuvenating post natal recovery mummies!