Expecting moms and dads enjoyed a fun and informative session at Wonderfully Made My Pregnancy
After a three month hiatus, Pitter Patter kicked off its first forum for 2014 with a bang at the Sime Darby Convention Centre on the 23rd of March 2014. The event titled "Wonderfully Made My Pregnancy" saw the participation of over 100 participants, mostly expecting couples from all walks of life, eager to learn more about the best tips and health advice as they begin their journey into parenthood.
The event started at around 11.30 am as participants began coming in to check out the various promotions, products and services at the event's MarketPlace brought by some of Pitter Patter's long standing partners. This was followed by a healthy yet delicious lunch spread.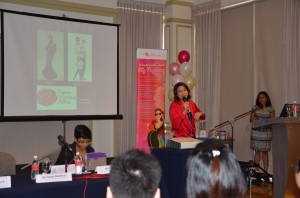 Satisfied and full, participants were treated to an insightful talk by local celebrity Dynas Mokhtar on how to become the "glamour mama". Dynas, founder of Dynas Nursing Attire and who is passionate about merging fashion with practical maternity and breastfeeding wear, shared some great insights on the right materials, cuts and colours for moms to look fashionable and feel comfortable during their pregnancy.
The fun and light hearted topic was followed by a session that was a bit more serious yet still informative and engaging. Dr Sivamohan, a highly experienced Consultant Obstetrician & Gynaecologist with over 30 years of experience in the medical field presented a talk on 'Identifying the Common Issues in Pregnancy', that helps expecting mothers understand their bodies and their health better as they go through various physical, psychological and emotional changes during pregnancy. Additionally, Dr Siva also highlighted some common conditions and diseases that pregnant women need to understand in order to best manage them during this period.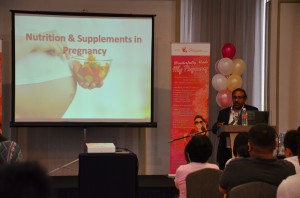 Beyond medical talks, participants were also treated to a short yet sweet talk and demo session by the nurses of KPJ Hospital Damansara on emergency first aid for children. Participants were deeply focused as they understand the significance of being prepared for such emergency situations.
This was followed by a talk on how Cord Blood Banking is a great investment for the family's future, presented by a representative from Cellsafe International.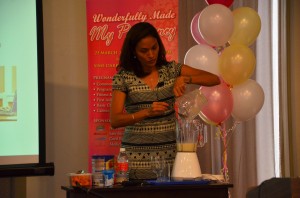 An event by Pitter Patter would not be complete without a talk on nutrition and diet, therefore Ms Indra Balaratnam, a regular speaker at Pitter Patter's health forums was on hand to not only present a talk on top Nutrition Tips for a Healthy Pregnancy, but to also show how easy it is to make homemade healthy smoothies that are good for mother and baby.
Of course showing was not enough, therefore 10 couples were selected to participate in the 'Mamalicious Smoothies Challenge' where they needed to work in teams and create the most delicious and nutritious smoothie based on the ingredients provided to them.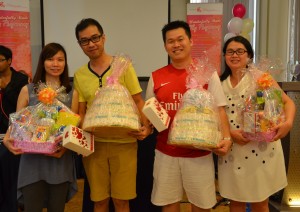 Out of the five participating teams, Team 2 and Team 4 emerged as the frontrunners, and the couples representing both teams won various prizes such as hampers from Pureen and Huggies, Meal Vouchers from the Sime Darby Convention Centre and the Clarins Pregnancy Care Set worth over RM300. All other participants also walked away with consolation prizes of the S26 antenatal milk and bag by Wyeth.
Following a short tea break, pregnant mommies were treated to another talk focusing on their health and beauty. This time it's on 'The Secrets to Great Skincare Duuring Pregnancy presented by Ms Winnie Lai from Clarins. Next, participants enjoyed another great demo session by Ms Chui Yen, a certified physiotherapist from the Pilatique Pilates Studio on simple yet effective exercises to keep fit and healthy during pregnancy while also easing future delivery.
Participants were also exposed to the importance of medical insurance protection for mother and child through a talk by a representative from Prudential Assurance. Having had their worries about finances eased, parents were also treated to a talk on managing the emotional rollercoaster ride as new parents by Ms Elaine Yong, a Developmental Psychologist from Sunway University.
Finally, the event wrapped up with a talk by Madam Yam Phak Hong on infant massage techniques and how to calm a fussy child. Overall, it was another fun and exciting event with participants walking away engaged, informed, educated and having fun while they do so. This will no doubt motivate and drive the team at Pitter Patter to put out another great event in the future. So watch this space!