It started out as a rainy Sunday morning, with unexpected heavy traffic along the way. But that didn't deter expecting couples from making their way to Connexion@Nexus at Bangsar South to participate in Pitter Patter's highly anticipated antenatal workshop, Empowering Pregnancy 4.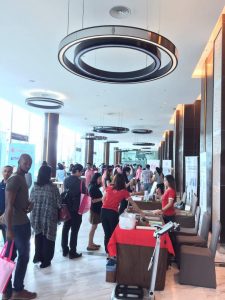 Participants were already waiting excitedly by 9 am as they mingle, and visit the market place that offered a wide range of exciting products, solutions and services for mother and child. These include :
maternal milk from Anmum
cord blood banking packages from Cellsafe International
mother and baby skincare products from Eubos and Palmers
full moon packages by Delights Fullmoon
PRUmy Child Insurance plan from Prudential
maternity and baby accessories by Pigeon
baby skincare products from Cherub Rubs
baby nasal spray from Merimer
baby bottle detergent by Chomel Baby
baby nasal spray by Sterimar and baby skincare by Ceradan
nappy rash cream by Metanium
pre and post-natal massage by Eve of Eight
post-natal firming and slimming treatment by OBGYN Women's Specialist
maternity and breastfeeding wear by Dynas Nursing Attire
feminine wash by Betadine
The workshop itself kicked off at 9.30 am with a highly engaging talk by Jennifer Hor a UK-trained Nurse and Midwife and co-founder of Jenlia Maternal Services, who is also a seasoned speaker at various antenatal workshops. She shared her excellent tips on how new parents can catch some shut eyes by establishing a sleeping routine and pattern for their little one.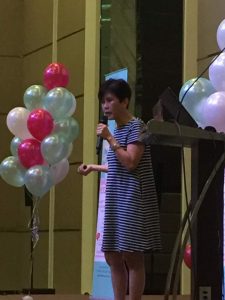 This was followed by a talk by a certified nutritionist from Fonterra Malaysia, who discussed how pregnant mothers can practice positive dietary habits and keep to a healthy weight during and after her pregnancy, a highly important topic for most mothers indeed.
The informative sessions continued with a talk by Dr Shilpa Nambiar, Consultant Obstetrician & Gynaecologist, Prince Court Medical Centre who shared her expert opinion on what to expect, what to prepare and exactly what to do on D-Day the day of delivery.
A talk about delivery would not be complete without a session on how to care for your little one after birth. This was provided in a funny and enlightening session by Dr Khoo Boo Aik, Consultant Paediatrician & Neonatologist, Sunway Medical Centre. As a specialist with over 20 years of medical practice under his belt, Dr Khoo was able to draw from his experience and shared insights on how parents can about how to care for your baby, how do you identify symptoms of illness and how can you protect your baby against all current and future harm.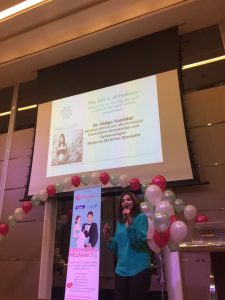 Concluding a successful morning is a talk by one of Pitter Patter's most recognised speakers, Jasmeen Tay Abdullah, a Parentcraft Trainer, Trained & Certified Lactation Counselor who shared her tips for how to get started right on breastfeeding. Her charm, humour and insights, captivated audiences, and her effective breastfeeding demos engaged participants on another level.
Beyond the informative talks, participants also managed to gain further practical hands-on knowledge on how to bathe and care for their baby's skin, how to swaddle their baby and properly care for their baby's bottom and how they can care for their baby's umbilical cord in a hygenic and safe manner.
What started out as a gloomy Sunday morning quickly turned into a bright, sunny and exciting afternoon for participants, as they left the session happy, satisfied, informed and most importantly readier for the birth of their little one.