Empowering Pregnancy 3 – back with a bang! Bigger and better than ever!         
On 4th September, Pitter Patter, specialized in hosting pregnancy events, organized an exciting workshop entitled "Empowering Pregnancy 3" at Connextion @Nexus, Bangsar South City, Kuala Lumpur.
After collecting their goodie bags,  the new parents-to-be were ushered to enjoy a delightful breakfast serving one of Malaysian-Chinese popular breakfast, Chee Cheong Fun at the banquet hall with floor to ceiling glass windows overlooking the landscape gazebo and on the main area, the view of Bangsar South.  More than 200 participants, looking all ready for the workshop to begin, were seated at the pillar-less ballrooms with high ceilings, just perfect for their first antenatal workshop.
This antenatal event is supported by Pfizer, and Cellsafe International.   The goodies bag with free gift, samples, promotion vouchers and info packs, are contributed by Pureen, Pigeon, Daveleen & Little world.
With the mission to be the premier innovative biopharmaceutical company in Malaysia, Pfizer is committed to Working Together for a Healthier World™.  The company launched the KidStrong Campaign Phase 2 recently to educate the public on pneumococcal disease in a fun and engaging way, by using a superhero theme to highlight the importance of protection against pneumococcal disease.  The symbol of the campaign, a superhero's cape, signifies the protection for the children – a symbol of security for the children against pneumococcal disease.
Cellsafe International, a sophisticated biotech venture thrives in providing cord blood stem cells processing and cryogenic preservation services across different markets in Southeast Asia.
Being one of the fastest growing cord blood banks in Malaysia. It is also the first biotech company in the country to use a world-renowned fully automated processing technology.  Besides, it's the only facility in Malaysia to offer a secondary storage site for added security and also the first in Malaysia to process cord blood with industry leading technology from Switzerland.
Together with exhibitors from Daveleen, Delight's Fullmoon, Egopharm, Greenwellness, Kimberly Clark, Marvellous Marketing, Melvita, M&B Marketing, Portes, Prudential and Slimming Sanctuary.  The tour of Knowledge at market place acts as one stop for parents-to-be to learn all about pregnancy products and services.  This half day antenatal workshop comprises of a series of talks by professional speakers to promote and educate new parents on pregnancy nutrients, delivery, vaccinations and breastfeeding.
Ms Jennifer Hor, Parentcraft expert, kicked off the workshop by sharing the tips on "Establishing routine & sleeping habit for the little one" with the expecting couples.  The co- author of "Asian Parenting Today" also shared on various feeding and sleeping signals of the new born.  She highlighted the importance of spotting the signals, having a regular bed time routine and technique on how to assist baby to sleep.  The information on newborn feeding and sleeping comes in handy and timely to prepare them as they embark on their journey of parenthood.
The workshop continued with a talk by Dr Agilan Arjunan, Gynaecologist and Fertility Specialist from KL Fertility Centre who shared on "The ABC's on delivery: Preparing for the big day and coping during the early weeks of delivery."
He gave a detailed explanation on advantages and disadvantages of giving birth naturally and caesarean birth, what to expect during labour and delivery as well as various pain relief available.  His take home massage was that expecting couples need to know how to identify labour, what to expect during labour, post-delivery wound care and preventing DVT.
Participants were then ushered to a tea break serving traditional snacks with coffee and tea and continue their tour of Knowledge at Marketplace with a display of maternity and newborn products from Millkbites's lactation cookies, Daveleen' post-natal pack, M&B Marketing's breast pump to Marvellous Marketing's premium products including teething toys and maternity nursing wear.
Parents-to-be also redeemed sample pack of Rose Extraordinary Water and Argan oil from Melvita, diaper from Huggies as well as QV baby bath oil and lotion.  Besides, they also received sampling from Delight's fullmoon specially made Ang Ku Kueh (A must have snack for traditional fullmoon celebrations) and yummy healthy Korean snacks from Greenwellness.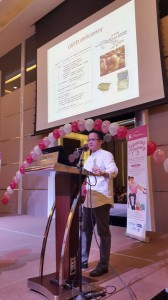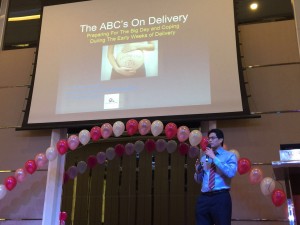 Right after tea break, Dr Khoo Boo Aik, Consultant Paediatrician & Neonatologist of Sunway Medical Centre shared on "All you need to know about common childhood illness, vaccination and growth."
Dr Khoo shared tips on having healthy baby, the importance of safe sleeping position, balance nutrition, good personal hygiene, vaccination, allergy prevention as well as the importance of vaccinations and the impact of pneumococcal disease and rota virus.
He also reassured the new parents that there is no connection between vaccines and autism.  They were advised to double check with their paediatrician rather than from social media instead.
Parents-to-be gained valuable insight on childhood immunization especially pneumococcal diseases awareness and prevention.   In short, prevention is better than cure.
This was followed by a talk on how Cord Blood Banking is a great investment for the family's future, presented by Ms Low Zhi Min, a representative from Cellsafe International.  She shared on the benefits of storing baby's cord blood, highlighting on their fast growing track record and status of being the first biotech company in Malaysia to use a world-renowned fully automated processing technology.
Ms Jasmeen Tay, certified and trained lactation consultant spoke on "Now, every mom can breastfeed successfully" being the last session of the workshop. The participants were enlightened by Ms Jasmine's humorous tips sharing with her multi-lingual talent and extensive experience on breastfeeding. The parents-to-be can't help but laughed and giggled away throughout the session. "Breast milk are precious gift of love and even adopted mothers could breastfeed" was her key message.
Besides sharing on breastfeeding benefits for both mummy and baby, she also shared on overcoming common breastfeeding challenges, various ways of breastfeeding positioning & coping with the do and don'ts during confinement with both traditional and modern context. Her take home massage was to never give up on providing the newborn with the gift of breastmilk.
After a couple of hours of listening and taking down notes, an impressive line-up of delicious buffet was welcomed by all especially the pregnant ladies, and it was worth the wait; delicious food was spread along the buffet table, as well as the savoury and sweet delicacies, the ice creams and fruits too.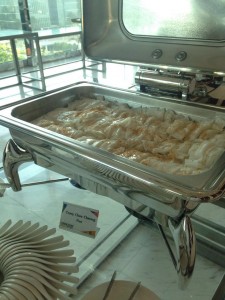 During lunch, parents-to-be get hands-on with the basics of newborn care like baby bathing, umbilical cord care and swaddling put together by the nursing experts from Sunway Medical Centre.  It was heartening to watch the eager daddies-to-be trying their hands on swaddling and baby bathing.
A lots of preparation has been make to ensure the event went on smoothly.  Pitter Patter would like to thank all who made it happen.
Our supporters, Pfizer and Cellsafe International, our exhibitors including Daveleen, Delight's Fullmoon, Egopharm, Greenwellness, Kimberly Clark, Marvellous Marketing, Melvita, M&B Marketing, Portes, Prudential and Slimming Sanctuary.
Our speakers Ms Jennifer Hor, Dr Agilan Arjunan, Dr Khoo Boo Aik, Ms Jasmeen Tay, Ms Low Zhi Min as well as the nursing expects from Sunway Medical nurse.
Last but not least, our participants, mainly the first timers for antenatal workshop who found the workshop educational and interesting, especially the tips on breastfeeding and what to expect during labour. They were impressed with the venue, the food line up as well as the informative talks.
In summary, Empowering Pregnancy 3 was a thoroughly enjoyable and informative experience for all.