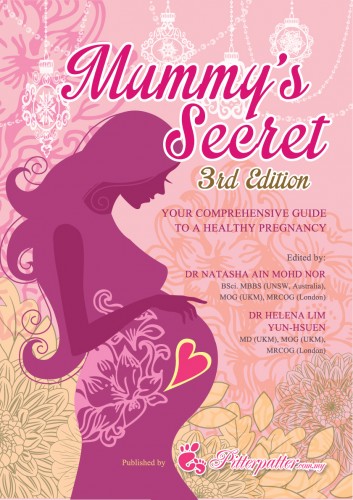 Announcing the arrival of our new Mummy Secret 3 booklet. This comprehensive guide to a healthy pregnancy comprises of 57 interesting topics by famous obstetricians & gynaecologists and paediatricians in Malaysia. The topics are:
Getting Pregnant
How do I Increase My Chance of Getting Pregnant
Pregnancy, Most Beautiful Days of Your Life!
During Pregnancy: Key Prenatal Nutrients
Eating for Two
Setting the Foundation for Superior Learning
Food to Avoid During Pregnancy
Am I Pregnant?
What Happens at Antenatal Checkups
Understanding the Blood Tests You Need During Pregnancy
The Value of Ultrasound in Pregnancy
Tests to Detect Abnormalities in My Baby
Down's Syndrome
Vaccination During Pregnancy
Chicken Pox in Pregnancy
Booking for an Antenatal Class
Travelling During Pregnancy
Pregnancy and Exercise: The Myths and Facts
Intimate Contact During Pregnancy
Vaginal Discharge in Pregnancy
Diabetes in Pregnancy
High Blood Pressure in Pregnancy
Placenta Praevia
Breech
Thalassaemia
Psychology and Pregnancy
Anaemia in Pregnancy
Twin Pregnancy
Preterm Labour
Vaginal Candidiases in Pregnancy
Urinary Tract Infection In Pregnancy
Cord Blood Banking
Ovarian Cysts and Fibroids in Pregnancy
Getting Ready for the Big Day
Stages of Labour
Coping with Labour Pain
Instrumental Delivery
Caesarean Section
OMG! We're Having a Baby!
Assembling A Layett
What to Bring to the Hospital When You are in Labour
Post Natal Care
Cervical Cancer Screening
Sex & Contraception
Looking After Yourself After the Baby is Born
Post Natal Baby Blues
In Need of a Confinement Expert?
A Distinctive Gift of Love
Full Moon or 'Mun Yuet' Celebration
Post Pregnancy & Slimming Myths & Facts
How can Midwives Help Ensure a Safe Post-Labour Journey for You & Your Baby
Traditional Pre & Post Natal Treatments for Mummies
Deadly Diseases
Sleep Challenges in Babies
Clean Air During Your Child's Essential Years
Coping with Crying Babies
G6PD Deficiency.