'Empowered Pregnancy' Received Record High Participation in a Fun and Interactive Setting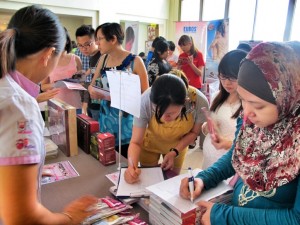 For most of our events, Pitter Patter has never been short of young enthusiastic attendees, namely expecting couples who want to educate themselves with as much knowledge as possible before the birth of their baby. This time however, we broke new grounds with the attendance of over 200 participants at our latest event, Empowering Pregnancy which happened on the 22nd of September 2013 at the Kuala Lumpur Golf & Country Club (KLGCC).
The full day programme was in full swing from as early as 11.00 am as couples came to not only listen to the talks but also check out some of the interesting promotions, products and services at The Marketplace. These include products and services from Amvory, Pigeon, Prudential, Daveleen, Pureen, Babywise, Delighfulmoon, Slimming Sanctuary, Propharm, Marvellous, Maxwell Pharma, Summer Residence @ Rainforest Sanctuary, Fusion Cosmetics and Refine Wellness.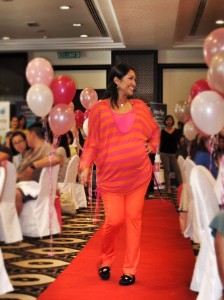 Following the hustle and bustle of The Marketplace, participants were served with lunch while they enjoyed a great maternity fashion show courtesy of Dynas Nursing Attire (DNA). Beyond seeing the beautiful nursing and maternity attires, participants experienced a surprise visit by renowned Malaysian celebrities such as Yasmin Hani, Nurul Depp and Betty Banafe as they also took to the catwalk with beaming radiant faces, to showcase some of the latest collections in DNA's stylish maternity and pregnancy offerings.
The official and informative part of the programme begun at 12.00 pm when Ms Tan Soo Fie, a Nutritionist from Mead Johnson Malaysia presented her talk on Nutrition During Pregnancy and its Myth. Ms Tan kept her session lively by giving participants mini-pop quizzes where they won attractive gifts upon giving the correct answers.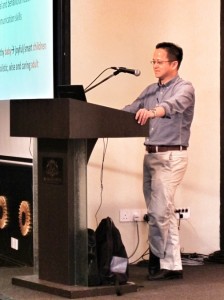 This was followed by another great session by Dr Khoo Boo Aik, Consultant Paediatrician & Neonatologist from Sunway Medical Centre who spoke about how parents can be best prepared to face common childhood illnesses, learn about vaccination and also their baby's growth. As a regular and experienced speaker, Dr Khoo was able to convey the serious message in his talk in a fun, light hearted and easy to digest manner. This kept his audiences engaged throughout.
Dr Khoo's talk was followed by a short video presentation from Pfizer on the dangers of pneumococcal disease and how vaccination can prevent the disease and save lives. Next, Dr Hoo Mei Lin, Consultant Obstetrician & Gynaecologist from Tropicana Medical Centre, took to the stage to talk about how parents can cope with the day of delivery and the first few weeks after. In spite of being a first time speaker, Dr Hoo kept her audience entertained with her spontaneous jokes and cheerful banter with the participants.
This was followed by a talk by a representative from Cellsafe International who spoke about Cordblood Banking and how it is a great investment for the family's future for would be parents.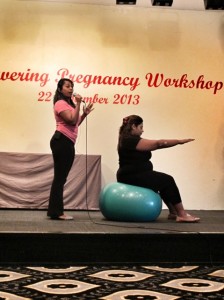 Following this presentation, participants were sent to breakout sessions. The mums were treated to basic child care tips and hands on demo by nursing experts from Tropicana Medical Centre, pregnancy exercises tips and demo by Pilatique Pilates Studio and Basic Confinements Dos and Donts from Dr Pei Ling a confinement expert from Daveleen.
The fathers on the other hand, while taken away from their significant others for an hour, were treated to their own fun sessions, comprising The Prepared Father workshop by Dr Goh Chee Leong, Consultant Psychologist, Fitness for Dads, by Pilatique Pilates Studio and Medical Protection for Mom and Baby from Prudential Assurance Malaysia.
The breakout session was followed by a short tea break, before participants reconvened in the main hall to listen to another experienced Pitter Patter speaker, Ms Jasmine Tay a parentcraft trained and certified lactation counselor from SusuIbu.com. In addition to espousing the benefits of breastfeeding, Ms Jasmine also showed how moms can do it right and motivated them to not give up on their breastfeeding journey.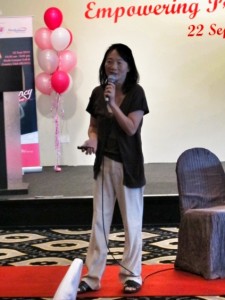 The sessions continued with a talk from Ms Wennie Sun, a computer science expert turned right brain education advocate for kids, who spoke about prenatal education and the benefits of teaching one's unborn child during pregnancy. This was followed by the final session of the day on emergency first aid skills that parents can use for their baby, courtesy of the First Aid Emergency personnel team from KPJ Damansara Specialist Hospital.
The fun and educational event ended shortly after 6.00 pm with would-be parents walking away happy with the attractive discounts, goodie bags and promotions that they discovered at The Marketplace, while also satisfied and well informed on the various aspects of parenting from the talks, videos and demo sessions.
Thank you once again moms and dads for making Pitter Patter's Empowering Pregnancy a resounding success. All the best with your upcoming delivery and we certainly hope to see you again at our events and activities in the future!