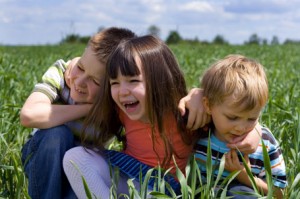 "Keeping my children healthy is not easy." Rose* said and sighed. "It's hard sometimes to even afford to put food on the table, much less making sure they have all the vitamins and minerals and what not." Rose crossed her arms as she watched her children kick around a ball, their laughter loud and rambunctious.
The compound of the apartment complex was mostly in disarray with some semblance of beautifying here and there showcasing haphazard attempts at gardening. The apartments were cramped and small, lined up next to each other like little pigeon holes. Most corners had accumulated trash that left a stench that worsened under the KL heat. It was hard to comprehend that people were living in such conditions right outside the doorstep of the glitz and glamour that is KL.
Rose is a housewife and spends most of her time looking after her brood – five children ranging from the ages of 2 to to 15 years old. Her husband, who works as a garbage collector for the city council has an average salary of RM1,000 a month. Needless to say, it is often difficult for Rose to get by. "When I can, I sometimes sell kuih on the corner of the street. Every little bit helps. The eldest, he helps me sometimes." When asked about school, Rose smiled sheepishly. "He hasn't been going for awhile, we can't afford the bas sekolah fee."
The smell gets worse as the afternoon heat permeates the compound. Rose says that there is a sewage leak and it hasn't been repaired. "A lot of things need to be repaired." she adds pointing to the decaying paint and the broken railings that have been patched with make-shift netting to protect the young ones. "We still survive." Rose says as she picks up her youngest and bounces her on her knee. "Sometimes NGO's and churches help us with groceries, sometimes we get RM200 from Jabatan Kebajikan which is a real help."
The situation is indeed dire for the urban poor in Malaysia as many families still struggle to make ends meet as the cost of living gets higher and higher. Crucial components of life such as education and healthcare often get left behind as families just simply cannot afford to travel to school or seek treatment. Every cent counts when you are a family of seven with the average salary of RM 1,000. Most of them rely on government provisions for all things healthcare.
Pneumonia and dengue are the most prevalent diseases among the children in this community due to the cramped quarters and clogged drains that surround the area. Pesky coughs, colds and runny noses are also common due to the high-density living environment. The warm, humid and crowded conditions are the perfect breeding ground for germs and bacteria – leaving the children susceptible to infectious diseases.
"My youngest one gets sick often." Rose tells me as she strokes the head of her little girl. "She sometimes gets fevers, sometimes it's the flu." Rose sometimes brings her daughter to the nearest clinic if transport and money permits, but most of the time she treats her with simple home remedies that are cheap. "I just get her to sleep and rest and hope for the best." Rose smiles the smile of someone who has accepted her lot in life.
Families like Rose's highlight the importance of the National Immunisation Programme of Malaysia which has a list of crucial vaccines which provide children from all walks of life with the protection they need against the onset of any number of childhood diseases. The National Immunisation Programme provides these vaccinations for free, thereby ensuring that all children of Malaysia have access to basic protection against diseases such as polio, rubella and tuberculosis to name a few. Vaccination against common, infectious diseases is a very important form of protection for young children. To less fortunate families, government healthcare is the only form of healthcare that they can afford – they rely and depend on the information and treatment that is provided as it is the only one that they will be able to receive.
When asked, Rose said she didn't know much about the dangers of pneumonia. She laughed that she really didn't have the chance to read much about these things "My children should be protected, they've got all their shots." she adds. "Pneumococcal disease? I've never heard of it. Is it dangerous? "
Pneumococcal disease which causes pneumonia and other invasive diseases is one of the leading causes of morbidity amongst children worldwide, with approximately 0.7-1 million children dying from the disease each year . It is a complex group of illnesses which caused by the bacterium Streptococcus pneumonia (S. pneumonia) with over 90 known serotypes (strains) of the bacteria recorded so far, although only a small subset of this causes the majority incidences of this disease worldwide, the bacterium causes invasive infections which include bacterial infections of the blood, bacteremic pneumonia, meningitis (inflammation of the membrane surrounding the spinal cord or brain) and non-invasive diseases including pneumonia and middle ear infection .
It can be a life-threatening disease but it continues to remain under-recognised globally including here in Malaysia. While our National Immunisation Programme protects our children against a number of important disease, the pneumococcal disease vaccine has yet to make it to the list. This is a serious and pressing issue as pneumococcal disease has been recognised to be one of the leading causes of child morbidity and mortality in the world, with over 14.5 million cases of serious pneumococcal infections reported annually in children younger than five years of age . While the more fortunate families can afford to vaccinate their children against pneumococcal disease, where does this leave families like Rose's who struggle every month to make ends meet?
There is a need to work towards a future where all children of Malaysia have equal access to the best healthcare and be protected against the debilitating effects of pneumococcal disease. We should strive towards the United Nations goal of the eradication of childhood deaths from pneumonia by 2025, in a bid to save the lives of children everywhere. In 2011, there were as many as 1.25 million cases of fatal pneumonia. Governments and other respective bodies need to join forces to use existing low-cost methods such as improved sanitation, safe drinking water and access to vaccines to take on this disease and protect those in need – so that mothers like Rose can have one less thing to worry about as they do their best to provide for their family.
*Not real name.