Now that you're pregnant, your health is doubly important–you're taking care of two now. Keep safety rules straight, find ways to de-stress, choose the right foods to eat, learn safe workouts, and more with our favorite apps for a healthy pregnancy.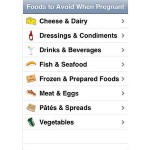 1. Foods to Avoid When Pregnant
Not the most creative name, but a pretty handy guide to exactly that: foods you may want to avoid. If you're craving a California roll or blue cheese, you can check the app to see whether it falls on the unsafe lists of cheeses, sauces, deli meats, and other edibles you must skip until your baby arrives. In addition, this app gives you guidelines for foods that need to be cooked to proper temperatures and/or pasteurized for prenatal consumption. Foods are broken down into categories (meat and eggs, cheese and dairy, vegetables, etc.) and sub-categories that make it easy to do a quick search on your phone while you're at the grocery store or at a restaurant.
2. Yoga Mama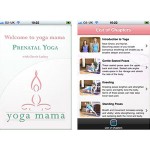 Did you know that when you're pregnant, you're more flexible because of the hormone relaxin? Unfortunately, that doesn't mean your yoga skills will soar; it means you have to be careful not to overdo it during certain poses. Yoga Mama offers safe, guided prenatal yoga workouts that include breathing and relaxation exercises. This app is broken down into chapters, so you can go right into a particular area within the workout — like the seated or standing poses — or you can do a complete series. This allows you to do a short or long practice (up to an hour), depending on how much time you have in your schedule that day. The exercises have easy-to-understand explanations alongside large photos of the pose, so you can model them after the instructor. This app is easy to use and understand, and a smart way to work out during pregnancy, readying your body for the upcoming labor.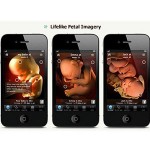 3. Sprout – Pregnancy Essentials
American Baby magazine's comprehensive app for moms-to-be, developed by doctors, has been consistently rated one of the best pregnancy apps on the market. It includes fetal developmental charts and timelines, to-do lists, a kick counter, and a contraction timer and helps you keep track of all your pregnancy health needs with a doctor visit planner, a weight tracker, and more. One of the best features is the customisable lifelike fetal imagery that shows you a 3-D image of what your baby looks like at each stage. Sprout is easy to use, and it can be personalized with your due date, baby's gender, or even a name for your baby-to-be.
4. Soleil Organics App
If there's a particularly good time to start eating more organic foods, it's probably when you're pregnant. A recent study by the Columbia Center for Children's Environmental Health in New York discovered a link between pesticides and impaired fetal growth. Although other studies have been somewhat inconclusive about the effects of pesticides, it can't hurt to make the switch with at least a portion of your diet. Because the cost of eating organic can be hard on your budget, the Soleil Organics app breaks down foods into categories (fruits, vegetables, grains, etc.) and lists the best ones to buy organic (those with more pesticides), and the ones you can skip (those with less or no pesticides).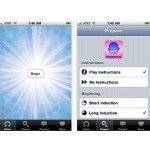 5. Positive Pregnancy
Pregnancy is supposed to be a happy time, right? Yet you may feel as though you're on an emotional roller coaster, worrying about everything and anything from your developing baby's health to nursery decor. This app aims to help you maintain a healthy mind-set during pregnancy, offering tools for calming your hormonally charged nerves, and realigning your perspective. The not-too-cheesy relaxation techniques, visualizations, affirmations, and meditations are easy enough for anyone to follow and focus on exactly what a mom-to-be needs: to relieve discomfort, boost energy during the day, connect with the baby in your belly, and sleep, relax, and de-stress. Ahhh…
6. Fish4Health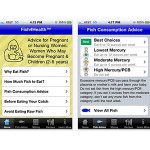 There are more comprehensive food guide apps available, but if you're a diehard seafood fan, this app will help you navigate safe fish consumption. Seafood is listed in categories and alphabetically for quick searches when you're dining out or at the grocery store. It will also track how much fish you eat per week, estimating your intake of omega-3 fatty acids and mercury. Plus, you can read all you want about eating fish, from how much is safe to the health benefits for you and your babe. This app is helpful into the nursing stages and addresses healthy seafood for young children as well.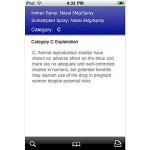 7. Pregnancy & Medication Safety
Can you take aspirin while pregnant? Cough syrup? This app categorizes different medicines and their risks to the fetus based on information provided from the FDA. Categories range from A (the safest) to D (potential for danger), and some fall into Category X, meaning they're a definite Do Not Take. You can bookmark favorites to go back to later, when your forgetful pregnancy brain kicks in, or for reference during a doctor's visit. You should always double-check with your doctor before taking any medications while pregnant, but this app can give you a good first take and provide valuable information.
8. Good Food Near You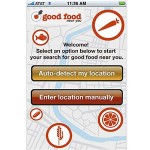 When you're on the road, and fried food or diner fare gives you the queasies, this app of more than 200,000 healthy food locations will save you. Type in your location or let the app find the place for you (perfect for the road trip when you have no idea what town you're getting gas in); you'll get restaurant listings, the healthiest menu items, and fat and calorie counts. Once you find a food to suit your current cravings, the app indicates how far the restaurant is from your location, and provides a map to lead you there. And if fast food is all that's available nearby, you'll find menu items at these places that fit their "good food" criteria. This is a great app for women who travel frequently or live in bigger metropolitan areas, but if you live in a smaller town, the number of restaurant listings is few and far between.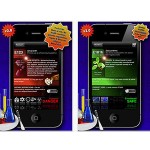 9. Food Additives
You may think you know what you're eating, but much of our food today, especially processed food, is pumped with coloring agents and other preservatives that can be harmful to you and your fetus' health in a variety of ways. Disturbing? Yes. But here's a handy app to help you wade through the nastiest food additives. This database of more than 450 additives listed by name and number includes uses and other info. For a quick search you can check the additive and look at the bottom of the screen, where there's a list of color-coded risks, ranging from red (danger) to green (safe). If you're into learning more about each additive, there?s a ton of additional information — almost too much — from which countries outlawed different additives to maximum intake levels. And if you want even more info, each additive has a Wikipedia link as well.
10. WaterWorks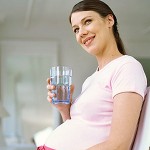 Pregnant women typically need 8 to 12 eight-ounce cups of water per day, according to the American Pregnancy Association, and more on hot days or during exercise. In fact, dehydration can be a factor in constipation, preterm labor, miscarriage, and fatigue. WaterWorks helps you set goals for staying hydrated during pregnancy, and can come in pretty handy during nursing as well, when water consumption is important for healthy milk production. The home screen displays a jug of water, which fills up so you can see how close you are to the top (or reaching your goal for the day). Before you start using this app, it's important to set it up properly, adding the water bottles and glasses you use on a regular basis.
*excerpt from www.parents.com