Come mingle, share and explore fabulous pregnancy and parenting tips as we await the arrival of our little ones.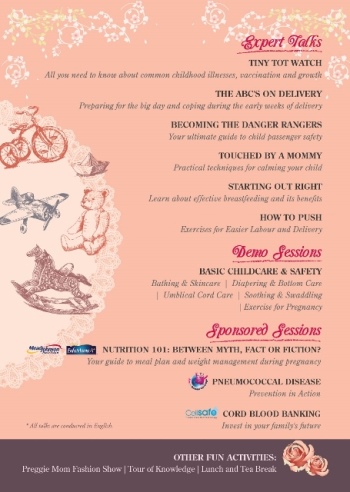 EXPERT TALKS:
Tiny Tot Watch : All You Need To Know About Common Childhood Illnesses, Vaccinations & Growth
The ABCs on Delivery : Preparing for the Big Day and Coping During the Early Weeks of Delivery
Becoming the Danger Rangers : Your Ultimate Guide to Child Passenger Safety
Touched by a Mommy : Practical Techniques for Calming Your Child
Starting Out Right : Learn About Effective Breastfeeding and Its Benefits
How to Push : Exercises for Easier Labour & Delivery
INTERACTIVE ACTIVITIES:
Basic Childcare & Safety
Nutrition 101 : Between Fact, Myth or Fiction?
OTHER HIGHLIGHTS
Prevention of Pneumococcal Disease
Everything you Need to Know About Cord Blood Banking
Preggy Mom Fashion Show
Tour of Knowledge
Lunch & Tea Break
ENTRY FEE :
RM20 per person
(suitable for expecting moms and their partners)
Book your seats from now till 4 December 2013.
Limited seats available.
Please call / email to reserve your seats**.
013-206 0570 / 013-371 8697 / [email protected]
For updates on this event, please visit www.pitterpatter.com.my
OR www.facebook.com/Pitterpatterfans
* All talks are conducted in English.