Come mingle, share and explore fabulous pregnancy tips as we await the arrival of our little ones.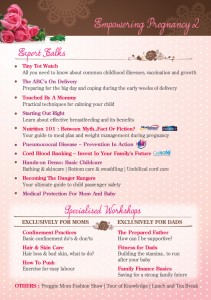 TIPS FROM THE EXPERTS ON:
The ABCs on Delivery : Expert tips on preparing for delivery
Tiny Tot Watch : Common childhood illnesses, vaccinations and growth

Becoming the Danger Rangers : Your ultimate guide to child passenger safety 

Medical Protection for Mom and Baby
Starting Out Right : Learning about effective breastfeeding and its benefits
DEMO SESSIONS :
Touched by a Mommy : Practical tips for calming your child
Hands On Demo : Basic childcare
EXCLUSIVELY FOR MUMS : 
Confinement Practices : Basic confinement do's and don't's
Hair and Skin Care : Hair loss and bad skin, what to do?
How to Push : Exercise for easy labour
EXCLUSIVELY FOR DADS : 
The Prepared Father : How can I be supportive?
Fitness For Dads : Building your stamina… to run after your baby!
Family Finance Basics : Saving for a strong family future
SPONSORED SESSIONS :
Prevention of Pneumococcal Disease
Invest in your Family Future
Nutrition in Pregnancy & its Myth
FUN ACTIVITIES :
Lunch and Tea Break
Preggie Mom Fashion Show
Tour of Knowledge
Lucky draw
ENTRY FEE :
RM25 per person
(suitable for expecting moms and their partners)
Book your seats from now till 10th of June 2014.
Limited seats available.
Download Registration Form – Empowering Pregnancy 2
Please call / email to reserve your seats**.
013-206 0570 / 013-371 8697 / [email protected]
For updates on this event, please visit www.pitterpatter.com.my
OR www.facebook.com/Pitterpatterfans
* All talks are conducted in English.