Times have certainly changed. Pregnancy used to be a time when the expectant mum was told to put her feet up, eat enough for two (or more!) and just sit …. relax …and.. don't move !
In some traditions, this is still believed and followed but recent scientific findings have proven otherwise. The most recent guidelines from the American Council of Obstetricians and Gynaecologists (ACOG) in 2006 state that 'pregnant women should exercise for long term benefit for mother and baby; to prevent pregnancy induced pre-eclampsia (hypertension or high blood pressure), diabetes, musculoskeletal problems and weight gain'.
Still, there are many myths and misconceptions when it comes to exercising during pregnancy. Let's have a look at some of the more popular myths :-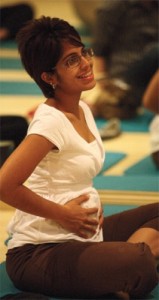 MYTH # 1 : YOU CANNOT EXERCISE IN THE FIRST TRIMESTER
The fact is, most miscarriages occur in the first 12 weeks (first trimester). Miscarriage is usually nature's way of saying that the baby was not meant to be. So, a miscarriage will happen regardless of whether you are exercising or spending time in a chair doing nothing. Of course, we are not talking about overdoing it with the exercise. If you are pregnant, and the doctor tells you that you are fine and free of complications, then you can continue with your usual exercise routine. Furthermore, if you are experiencing first trimester issues like nausea and fatigue, exercising will make you feel a lot better and leave you energised and happy, through the release of 'endorphins'; the body's happy hormones.
MYTH # 2 : "IF I DON'T NORMALLY EXERCISE, IT'S NOT GOOD TO START WHEN I AM PREGNANT"
Pregnancy provides a window of opportunity to start a healthy lifestyle as women who do not usually exercise may feel motivated to get started because they want to be healthy for their baby's sake. So if you are pregnant, have no complications and are declared to be in a great condition by your doctor, then there is no reason why you cannot start exercising. Do start with low impact activities such as walking and swimming. A lot of women feel more comfortable under the supervision of trained fitness professionals to guide them. If so, then hiring a trainer who is properly certified to train pregnant women is a great option. Or if you would like to meet other pregnant women and have the social aspect to exercise as well, then places such as Fit For 2 and Sun Yoga offer specialty classes for pregnant women.
MYTH # 3 : YOU SHOULD NOT EXERCISE IN THE THIRD TRIMESTER OR WHEN THE BABY GETS TOO HEAVY
There is no reason to stop exercising if you feel fine. In fact you can exercise right up to the day you deliver! Your body is the best guide – it will tell you if you are feeling too hot, or if you need to sit rather than stand, or if you need to stop altogether.  If you do feel too hot to walk or go outdoors then hit the pool. Water is a pregnant woman's best friend as it will carry the baby's weight for you. As you get close to delivery, and it is uncomfortable to swim, you can always walk in the water. That's exercise too!
Having said that, the third trimester is the one where you will feel even more tired. Your sleep may be disturbed – with waking up frequently to use the toilet, or calf cramps which seem to happen only in the middle of the night! Besides that, issues such as pubic pain, swellings (edema) and symphysis pubis dysfunction (SPD), are more likely to happen in the third trimester as well.
If you are still feeling up to exercise AND your doctor also gives you the green light, then a few things to bear in mind would be :-
If you are going about your workout, it is better to sit when you can rather than stand (for example, doing bicep curls sitting down rather than standing )
Take frequent water breaks
Keep your exercise sessions short and frequent. It's better to do half hour sessions a few times a week rather than one long session once a week
Have a snack before you exercise to regulate your sugar levels
Bear in mind what you wear when exercising. Pregnant women feel very hot already and exercising raises the body temperature so if you overdress, there is the danger of overheating and therefore feeling faint. Materials such as cotton are great in our hot humid climate.
MYTH # 4 : YOU SHOULD NOT DO STRENGTH TRAINING WHEN YOU ARE PREGNANT
Weight lifting is a form of exercise that is proven to be beneficial in so many ways for women. For example, it increases bone density, muscle mass and metabolic rate. Being pregnant does not mean you have to stop your strength training routine. What it does mean is that as you progress in your pregnancy, you should reduce the frequency of your exercise, such as working out with weights twice a week rather than three or four times a week, reduce your session to 30 or 45 minutes, and also reduce the weights. Once again, your body will be your best guide.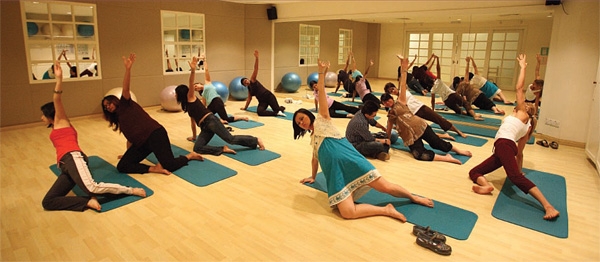 Have a happy healthy pregnancy!